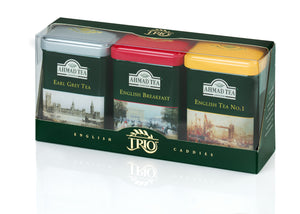 Trio of Teas
Regular price $40.00 Sale
This charming gift idea contains three of the most popular Ahmad Tea blends.   
Earl Grey Tea is made from the finest leaves, lightly scented with the elegant flavour of bergamot.  Bergamot gives Earl Grey tea its aromatic, refreshing character. It balances the invigorating briskness of the tea and imparts a bright fresh citrus taste. Ahmad Tea's Earl Grey has won a Great Taste award.
English Breakfast is a rich blend of teas originating from Ceylon, Kenya and Assam. It is hugely popular and adored by many.  This distinctive blend provides a warm, comforting brew in every single cup. A full-bodied, robust tea which is ideally served with milk. 
English Tea No.1 is made from a blend of high-quality black teas from Kenya, Sri Lanka and Assam. It brews into a beautiful amber-colour tea with complex aromas and a subtle hint of bergamot. A truly refreshing tea. English Tea No1 teabag has received a Great Taste Award.