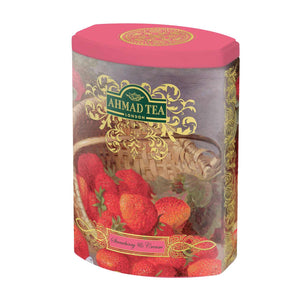 Strawberry Cream 100g Loose Leaf Fine Tea Collection
Regular price $15.00 Sale
Strawberries and cream are a match made in heaven, a classic British dish dating from the Tudor era. The summer sweetness of strawberries and their slight tartness is perfectly matched with the rich cream. Will refresh and satisfy like a dessert without all the extra calories. Serve with milk and sugar for a more indulgent flavour. Comes inside an elegantly decorated tin that is adorned with strawberries resting in a basket with gold embossing and the Ahmad Tea logo. A splendid gift choice for those who like something sweeter all in an elegant package.
Strawberry & Cream Tea is an evocative, summery cuppa, sure to delight the senses – whatever the season. Juicy strawberries, smooth vanilla and seductive rose all add their luxurious twist to this fine blend of comforting black teas. Elevate your daily brew from 'builder's' to 'berry-licious' with this sophisticated loose leaf blend.
To create this indulgent strawberry delight, Ahmad Tea Masters blend high quality malty Indian Assam with brisk Ceylon loose leaf teas. We use a high proportion of second flush Assam (leaves picked at the peak of their quality) to enhance the rich and satisfying flavours. Onto this finely balanced base we sprinkle real strawberry pieces to deepen the tea's deep fruity flavours, accentuating them with a unique strawberry and vanilla flavouring. Rose petals add another layer of complexity to the moreish blend. The sweetly fragrant summery notes of strawberry, rose and vanilla combine beautifully with the black tea, highlighting the biscuity notes in the Assam and the citrusy freshness of the Ceylon. All in all, it's a deliciously flavoursome and rounded brew.
This loose leaf Strawberry & Cream Tea comes foil-wrapped for freshness inside an ornate, luxury metal caddy. Part of the Fine Tea Collection, the caddy is adorned with a detail from Eloise Harriet Stannard's 19th century English oil painting 'Strawberries'. It's a fitting encapsulation of this fabulously fruity infusion. Inspired by time-honoured British tea traditions, all Ahmad Tea Fine Tea Collection caddies feature beautiful artworks and luxurious detailing, offering an elegant way to present and preserve the finest loose leaf blends.
You can enjoy this tea without milk for a brisk, energising brew, but to really unleash its indulgent, strawberries-and-cream beauty, brew it strong and serve with whole milk, perhaps with a sprinkling of sugar. This is a particularly lovely cuppa for anyone who thinks fruit teas aren't for them – or anyone looking for an English Breakfast style tea with a difference. So, whether you're treating yourself or buying a gift for a loved one, why not make this Ahmad Tea Fine Tea Collection caddy part of your tea ceremony?